Posted on 12/03/2018 in Company News, by Cheryl Charlesworth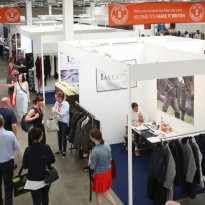 Soabar is ready to exhibit at this year's Make It British Live – an annual event which aims to showcase the best of British manufacturing. Starting life in 2014 as Meet the Manufacturer, Make It British Live celebrates British-made products.
With over 180 exhibitors and informative, drop-in seminars, the event is the perfect place to meet and find everything you need about British manufacturing. Soabar has supported and exhibited at the event for the past five years.
Last year, more than 5,000 people attended, providing us with an amazing opportunity to build connections within the industry.
Exhibitors range from garment manufacturers to sample makers, textile mills to trimmings, fabric printers to machinery providers. Because of Soabar's experience and expertise in the textiles industry, we can print and supply labels for a wide range of applications.
Exhibiting at Stand B7, we are looking forward to meeting manufacturers looking for versatile a labelling solutions, which is designed to meet the toughest demands and expectations of the industry.
Whether detailed wash care labels, barcode labels, single sheet card tickets or kimballs are required, we can help, along with providing an extensive range of textile printers and design software to deliver customer-specific solutions tailored to your exact requirements.
Soabar holds in stock a full range of satins and foils, we are able to pre-print card tickets and labels for you to overprint in-house. At Soabar, we understand that labels are more than just paper and can say a lot about your product. That's why our experts are ready to discuss the label needs your business is facing in today's rapidly-changing marketplace.
As label experts, we believe in excellence and a personal touch. At our stand, our team will be on hand to help you find your perfect label solution and keep your product British-made.
Make It British Live is a fantastic opportunity to network and meet the wide range of British manufacturers and producers.  We can't wait to make the most of this event and welcome you to our stand at B7 on 23-24 May, where you can find out about our wide range of labels and label printing equipment and how they can help your business grow.  
So, register now at https://makeitbritishlive.com/product/visitor and we look forward to seeing you at the event.