Posted on 15/01/2018 in Company News, by Cheryl Charlesworth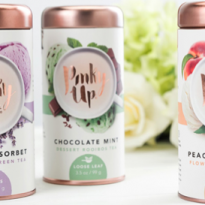 2017 was a big year for us here at Soabar.
We saw a lot of creative designs get printed, had the opportunity to work with some amazing businesses and developed our printing technologies even further.
It has definitely been a year to remember.
But before we begin to celebrate welcoming in the new year, we thought it'd be a fitting idea to create a blog post about some of our favourite label designs of 2017!
So, here goes…
Blue Moon
Blue Moon created a campaign earlier in the year called Artist Series. The brewery showcased the work of local artists using their bottle labels. This was a clever, warming and fun marketing campaign which utilised labels in the best possible way. A standard self-adhesive label was used here and a similar effect can so easily be created on any type of produce whether it be a bottle, can or box.

Makers and Merchants
Vintage package design is evolving each year (ironically) using modern technologies and materials. There's definitely something about vintage design that resonates through time. These labels for Makers and Merchants are taking us back to our childhood, using a basic self-adhesive label to create a simple yet effective look that can be easily replicated for your own produce.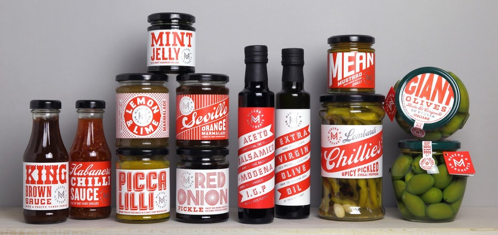 Elderbrook Drinks
Colourful, bright and exciting labels help products to stand out on the shelf. These labels for Elderbrook Drinks create excellent brand identity for the business while also looking really attractive and vivid against the strong coloured cordial.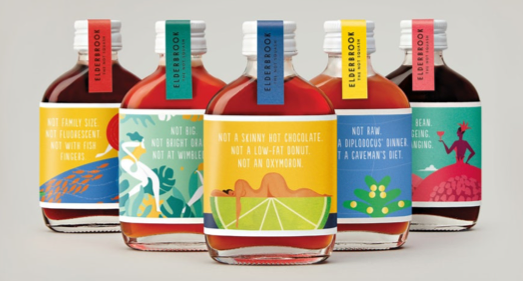 Point after Point Wine
This design for a limited-edition wine bottle for Cargill's Empyreal 75 is a really creative version of a die cut label that customers can get involved with. This wine even comes with a pencil too, so you can join the dots – a great example of how a label can work effectively with the entire branding of a product.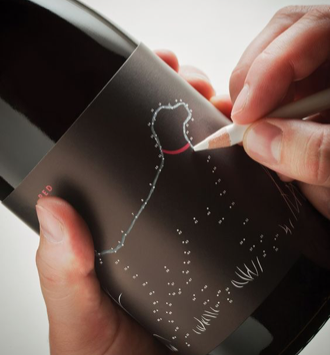 Cocorico
Embossed labels were massive in 2017. Adding texture, dimension and interest, embossed labels allow products to stand out and create a sophisticated look. We especially like this one by Cocorico, which used a bright colour to emboss their cockerel logo onto this label.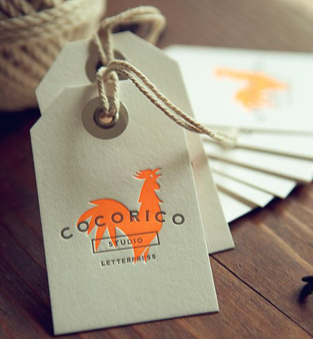 Harrods Honey
This is a real 'stand out' label!
The clever 3D effect would definitely catch your attention while at the shops and is a great way of creating brand identity. 3D labels like these are easier to make than you might think and can be customised to suit any product or brand.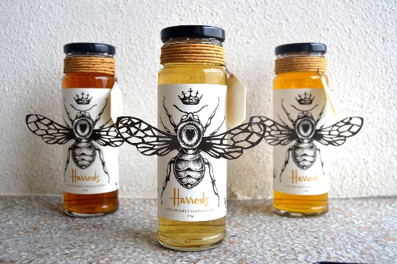 Lemonaid
Clear labels are a great way of showing off your product while also providing the vital information you need. Clear labels look great on these Lemonaid bottles, aiding the clean, clincial look they were going for.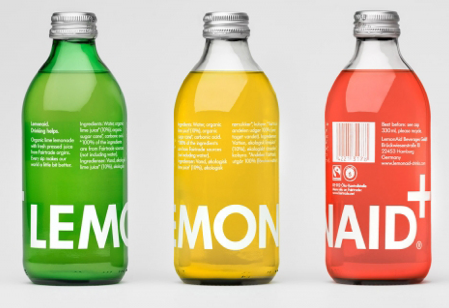 Pinky Up
While clear labels look great, labels can look particualrly effective when they cover up the whole product. As well as creating an air of mystery as to what is underneath, labels like these Pinky Up ones create a luxurious and classy look that it is hard to resist.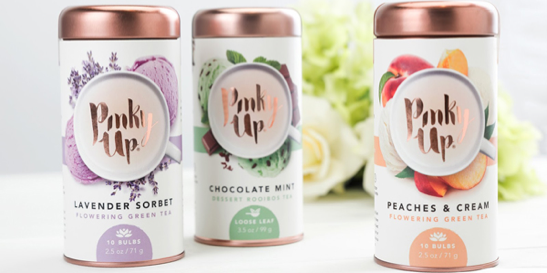 Hedgerow Preserving Company
Some labels can connect to form a seal effect. This kind of labelling looks particularly impressive on jars, like this Hedgerow marmalade label. The ripping of the label is almost as satisfying as hearing the jar pop open!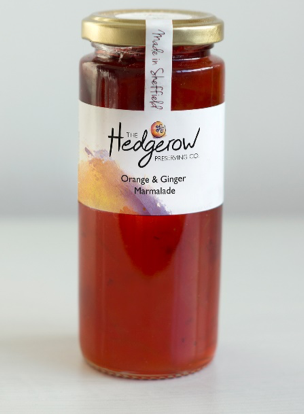 Labels can be used in so many creative ways, and with endless possibilities, the only limit is your own imagination.
From self-adhesive, thermal ribbons and swing tickets to digital label printing and label printers, Soabar have it all with a friendly face always ready to help.
To find out how we can help you create your perfect label or provide you with your very own printing machine, get in touch today!