Posted on 08/03/2017 in Company News, New Product Launches, by Emma Achurch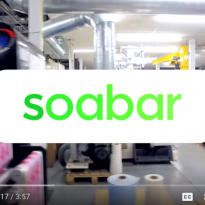 Some exciting things have been happening at Soabar over the past few weeks. From exhibitions, the launch of our new Digital Label Department and now to the release of our promotional video!
We are excited to share this with you, as it features our machinery, services and wonderful staff and customers!
'Soabar- The Movie' has been produced in partnership with Konica Minolta and The Internet Video Company.
Please take the time to watch the video, learn about our company and leave us any comments that you have.
If you'd like to enquire further about how Soabar can meet your labelling and printing needs, then please get in contact via our online enquiries form.